Why does a Landing Page benefit your Marketing SEO Strategy?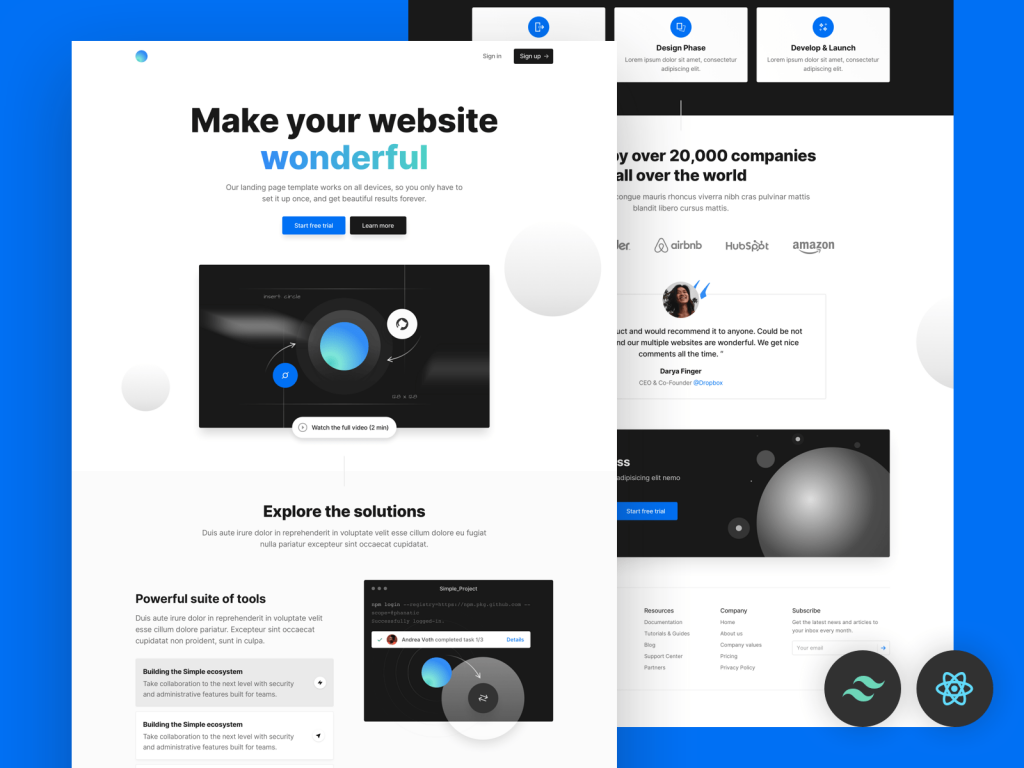 Everyone knows that first impressions are important. The first interaction a user has with your business will shape their perceptions of you and your future relationship. Users when accessing your website, they often click on a lot of different information before reaching the goal they need. Meanwhile, users will immediately find the goal they need when accessing the Landing Page, which gives them a sneak peak into what your business is all about. The landing pages relevantly become one of the important marketing SEO strategies that every business should take into consideration.
In many cases, how a company interacts with new visitors can mean the start of a successful customer journey or the loss of the ability to make a sale. However, when done well, landing pages provide valuable information and entice users into the digital marketing sales funnel, along with providing them with insights into your brand.
What is Landing page?
In online digital marketing campaigns, a landing page is a single web page with focused content that guides and convinces audiences to accomplish a specific conversion goal. In other words, the landing page is where the user goes when clicking on the ad or link. That's their first entry into your business ecosystem and helps you to improve your marketing SEO strategy. Especially, a landing page, unlike a regular web page, typically lacks website navigation and directs visitors to a single possible action.
Your landing page can be a page focused on a specific purpose, or it can simply be the homepage of your website in some cases. Some landing pages also include forms where users can enter their contact information in return for receiving a monthly newsletter.
Landing Page Structure
The landing page structure definitely helps you and your business tell the whole story. Without it, potential customers will eventually be dropped because your page doesn't look trustworthy or convincing. Remember, you want your visitors to convert – make sure you give them enough reasons to do so.
Here are the main landing pages elements that help your landing page look well-designed and make your marketing SEO strategy stronger:
Headline
All offers boil down to a single sentence that grabs the visitors' attention.
Relevant images, animations, or videos
It draws viewers in and adds visual interest to the page. Never use images just to fill in the blanks.
Lead form
Chance to collect data from potential users. The more forms fields you have, the lower your chances of converting. So keep it minimalistic.
Should have a copy and description that informs and entices visitors to complete your form.
CTA button
Avoid creating confusion or hesitation for visitors. Give them just one CTA to think about.
FAQ
Important blocks where you can answer popular questions, dismantle objections, and respond to your users' fears on the landing page.
These are simply the minimum elements. To know how much you should include, you must first understand your audience and where they are in the buyer's journey. The rule is to include as much essential information as you need to get people to convert based on your business's purposes.
Landing Page Structure example: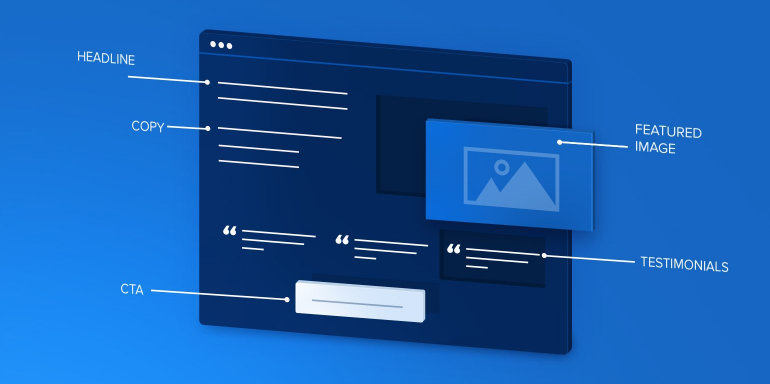 Headline Section: is the most important part of your landing page. Keep your logo and/or tagline always visible based on how your audience approaches the landing page. Depending on your business, what you are selling, and what you want people to do on your page, you'll probably want to use different types of headlines.
You can think of the Supporting Headline that would create the opportunity to fill in more important details for your main Headline.
You also need to consider a Hero Image to become a whoa effect to keep the audience staying longer on page.
Call To Action: This is important to highlight and direct users to a followable form for lead generation.
Solution/ Services: Show users your business's solutions for their problems. Clearly show the services that your business provides and covers.
Pricing Table: Depends on the type of the product/ service that the price can be shown.
Social Proof/ Testimonials: Show users what people say about your business. Testimonials are the simplest way to add social proof to your landing page.
Portfolio: Shows some latest project or any prize-winning project is to make the audience can-not-say-no.
FAQ: Answer frequent questions that users tend to ask.
A closing statement (optional): re-emphasize the unique selling proposition and gives your visitor one last chance to take action.
How do Landing Page work?
Landing pages work by giving visitors exactly one primary benefit. By removing navigation and limiting options on the page, landing pages make it more likely that people will read exactly the purpose that your business is trying to express – and ultimately convert them.
The most important thing is that your company understands where its current visitors are in the buyer's journey. A well-designed landing page appears to aid in the conversion of visitors to the next stage of the buyer's journey – whether that's becoming a lead, a customer, or a repeat customer.
There are a lot of different ways you can use landing pages:
To promote gated content and lead magnets.
Send traffic from Facebook Ads or Google Ads to convert them better.
The landing page can be a temporary one-page site, to test the ideas.
Landing pages work even better when the primary benefit is specific. Landing pages are one of the most important pieces of digital marketing that you will use for your business.
Landing Page benefits your businesses
In the Digital Marketing field, Landing pages have three many benefits you can expect when incorporating them into your marketing SEO Strategies:
Landing pages deliver more conversions and leads as SEO strategy is applied, landing pages have a specific focus and target audiences.
-> Higher conversion rates.
Landing pages can be developed based on specific content. As a result of being targeted, your business can get the specific message, image, and offer to ensure it conveys directly to your audience.
Landing pages make direct contact with visitors to a website. Landing pages help your business by interacting with and communicating your key brand message to customers in the most effective way possible.
With landing pages, your website will drive more organic search traffic, increase conversions and capture more visitors.
In general, we can see that the landing page is critical in attracting customer interaction and improving marketing SEO strategy. Each component of a landing page has an intimate relationship and has a direct impact on its effectiveness.
Want to optimize your SEO Strategy? Contact us to start your SEO Marketing campaign today!